Crossing the borders into Corrales is like stepping into a time and place where the stresses of twenty-first-century life give way to the grace and pace of another era. Walkers, bikers, horseback riders, and even carriages are a part of everyday life. The Village is bordered on the east by the Rio Grande, West and North by the City of Rio Rancho, and to the South by the City of Albuquerque. Population 7,300.
The Village of Corrales city office is located at:
4324 Corrales Road Corrales, NM 87048 (directions)
Phone: 505-897-0502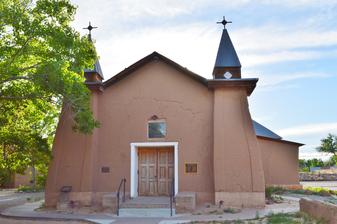 Mayor's Message
Oh boy! It really is Friday the 13th!  However, it seems like a beautiful day in the Village, unless you are a friggatriskaidekaphobe.* And we got rain last night, so that's a good omen.
This last Tuesday, the Village government, during a work-study session, heard a presentation on foliage and environmental patterns in the 600 acres of bosque that abut Corrales. I am committed to getting all the stakeholders together (MRGCD, SSCAFCA, Corrales Fire Department, Bosque Commission, Hawks Aloft, Audubon Society, etc.) to forge a long-term management plan, with the twin goals of keeping us both beautiful and safe. More updates as we move forward.
The big news of the week has to be the groundbreaking for Joel Gregory's Ex-Novo brewery. Located on the site of the old Territorial House, the first phase of the project has officially begun. There was a really wonderful turn-out for the event, sponsored by Main Street, which featured golden shovels and media coverage. Joel, his wife and two young children will be living and working right here in the Village. Please check FB and the web for more information and pictures. Congratulations – we wish them all the best and are looking forward to consuming some local (agriculturally-related) beverages!
Beautification of the grounds around the Village Administrative Center continues. Master Gardeners come on Tuesday mornings to revitalize our landscaping. Main Street has now given the Master Gardeners $400.00 for additional planting materials to make the area around the Administrative Offices and the Blue Pavilion area even nicer. If you stop by early on Tuesdays, you can catch the Master Gardeners at work and thank them for their efforts. Many of you have commented on how well-kept the area is now looking. We agree.
As always, check out the Grower's Market this Sunday from 9 to 12. As we move into mid-July, there's more produce every week. Listen to music, eat a burrito and catch up with your friends and neighbors. And yes, you can catch the World Cup Final (9 a.m.) and get to the Grower's Market.
*Yes, it's a real word. See "Friggatriskaidekaphobes Need Not Apply," New-York Historical Society.